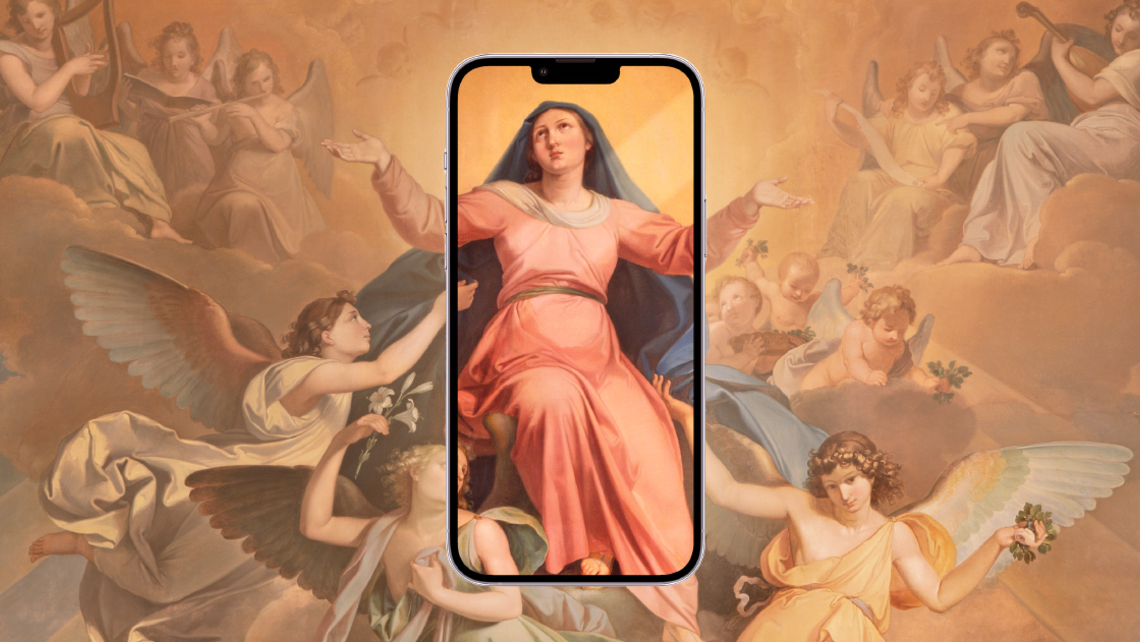 We live in a digital age where 85% of adults own smart phones. It seems there is an app for anything you can imagine – timing contractions, finding your car in a parking lot, trying out facial hairstlyes, and even tuning your instruments – so it should not come as a surprise that there are multiple apps to aid us in praying the rosary!
However, not all apps are made equal, so we have sifted through over 40 Rosary apps to give you a list of the best. Enjoy!
Covenant Network

The Covenant Network app not only lets you listen to your favorite Catholic Radio Station right on your phone, but has a very user-friendly audio rosary feature! Of course, you can also join us for our rosary broadcast Monday through Saturday at 10 am on your local Covenant Network station!
iRosary

Cost:
Free, option to upgrade (3 mo for $2.99 or 1 yr for $5.49)
Upgrade Features:
Family Sharing, more images for each mystery, more customization of rosary beads/cross, Divine Mercy Chaplet
Pros: 
Clean design
Easy to use
Beautiful images
Meditations and Fruit for each Mystery
Spanish or Latin options
Male or female voice options
To pray with left hand on beads, just drag them to the left side of the screen!
Cons:
No option for Latin Rosary
Can only skip one bead at a time
No option for scriptural Rosary 
Wrap Up:
The user moves the rosary pull-chain style and it wiggles like it would in real life, which is strangely satisfying! There is also a great story behind its creation. The Brown family found it difficult to pray the rosary in the hospital during the 7 months their daughter, Isabella, lived there fighting Leukemia. They created iRosary to help themselves and others pray through tough times and in distracting environments.
Mary

by the Fathers of the Immaculate Conception
iPhone/Android
Cost:
Free
Pros: 
Easy to navigate
Can schedule reminders to pray
Meditations for each Mystery (though not intuitive to find)
Audio option
Many extras related to Mary including Marian History Timeline, Marian Dogmas, Pilgrimages Sites, Marian Feasts and much more!
Cons:
Not the most aesthetic app
Only English Language
Can only skip one bead at a time
No images in rosary feature
Wrap Up:
The user moves the rosary pull-chain style on the side of the screen like the iRosary app, but there is no option to customize and the rosary does not "wiggle." While this app is not the slickest design-wise, it is a treasure trove of all things Mary!
Rosarium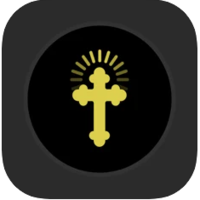 Cost:
Free
Pros: 
Clean design
Easy to use
Turns your Apple Watch's digital crown into the Rosary beads
Spanish, Italian or Latin options
Can create a Siri Shortcut or reminder within the app
Cons:
No audio
No Meditaitons, fruits or scriptural options 
No images
Wrap Up:
This is the best app for Apple Watch owners, letting them turn their watch into a digital rosary. The design is very clean and easy to use, though offering fewer options than some of the other apps. 
Scriptural Rosary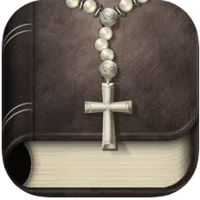 Cost:
$4.99, but "Lite" version (separate app) available with just Luminous & Sorrowful Mysteries
Pros: 
Beautiful images
Meditations and Fruit for each Mystery
9 different languages
Can pray with friends/family by syncing screens through bluetooth
Can record your own audio
Can be used with Apple Watch
Cons:
Less intuitive to navigate
Unless you record your own audio, the audio is a robotic sounding screen reader
Wrap Up:
The recording feature on this app would be amazing for someone who travels. They could record their spouse and kids praying and still "pray with the family" on the road! It could also be a special feature for someone in the hospital or nursing home.
My Rosary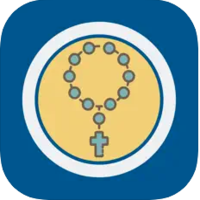 Cost:
Free, option to upgrade for $2.99
Upgrade Features:
More prayers, audio feature, autoplay with audio, ability to set reminders
Pros: 
Clean design
Easy to use
Meditations & Image for each Mystery
Tracks rosary streak and how "Roses to Mary" and awards badges for hitting goals
Cons:
No option for Latin Rosary or other languages
No option for scriptural Rosary 
Can not view image while clicking through the decades
Can not customize goals
Wrap Up:
The shining feature of this app is it's goal tracker. This will be helpful to people who could use that little extra motivation to build a daily rosary habit or get back on track after life's inevitable curveballs. 
Regina Caeli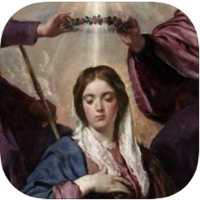 Cost:
Free
Pros: 
Clean design
Easy to use
Scriptural Rosary
Fruit for each Mystery
Daily Readings and many other prayers, novenas and litanies available
Entire Bible available with four versions to choose from
Cons:
Images are small
No option for Latin Rosary
Can only skip one prayer at a time (swiping through)
No Meditations for the Mysteries
Wrap Up:
This app may not offer much in the way of customization or special features, but it is clean, easy to navigate and has not only the foundational content of the daily readings and text of the bible, but is a treasure trove of prayers, novenas or litanies! It also holds your place during your novenas.
Other Apps of Note:
Contemplatio: The Rosary With Images
Free
Contemplatio is a very simple app that shows beautiful, full screen images for each mystery. You can also see how many people are currently praying with the app and have prayed with the app that day, giving it a community aspect. Users can choose between four languages, between 1-3 images per mystery, changes in points of contemplation per image and toggle background chant on or off.
Amen
Free
Published by the Augustine Institute, this Catholic prayer app features solid daily meditations and reflections by Dr. Tim Gray, exclusive content by Chris Stefanick, audio rosaries, family content from creators like Brother Francis, Catholic Sprouts, sleep meditations, and much more.
Hallow
Free, more features unlocked with subscription: $8.99/mo or $59.99/yr
Touted as the #1 Catholic App, Hallow seeks to help people destress and grow their spiritual lives through audio content that includes Prayers, Meditations, Sleep Stories, Lectio Divina, Gregorian Chant, Homilies, Challenges and much more! Content from Jonathan Roumie of Chosen and Fr. Mike Schmitz from Bible in a Year fame are big draws to this app.