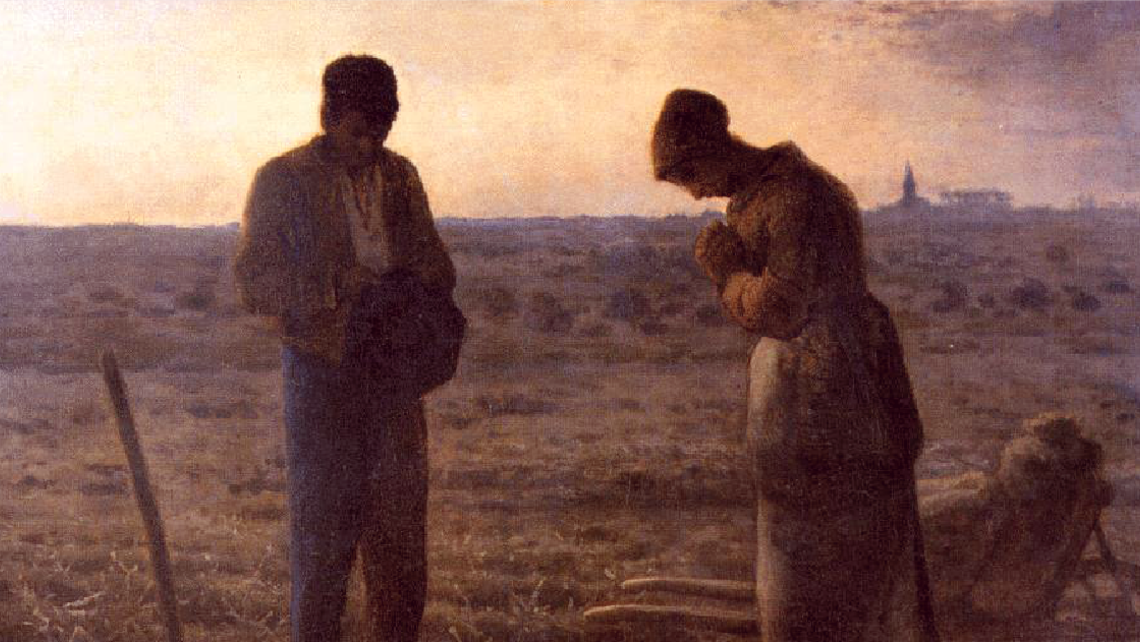 I look to all of You, brothers and sisters of every state of life – to you, Christian families, to you, the sick and elderly, and to you, young people: Confidently take up the Rosary once again."

Pope St. John Paul II, Rosarium Virginis Mariae
No matter where our state of life places us – be it a nursing home, prison, school, office building, convent, hospital, or home – we are being called to take up the rosary and dwell on the lives of Jesus and Mary. It would be amazing to be able to pray our daily rosary in Christ's presence in the Tabernacle regularly, but if that is not an option, it is good to find spaces conducive to meditation and reflective of the truth, goodness, and beauty we seek. 
In a home, we may not have a spare room to dedicate to a prayer space, but we can create a clutter-free prayer nook or home altar where we can take refuge throughout the day and especially during our family rosary. Dimmed lights, a couple blessed candles and a piece of beautiful sacred art can help us see the space and time as sacred and set apart. Some families even use little altar cloths that change colors to match liturgical seasons! 
A teacher in a Catholic school can set up a similar nook in the classroom to provide a sacred space for personal prayer visits as well as a place to gather for a class rosary. The addition of a candle snuffer and holy water would make it even more special and attractive. What child would not have fond memories of such a peaceful spot in their classroom?
Sometimes, in an office environment or shared living space, having a prayer nook isn't feasible, but there are likely potential spots close at hand! Can we carry a tealight and holy card up to the roof of the building or a balcony for our prayer? Is there a little park tucked away around the corner we can visit and make our prayer spot? If nothing else, can we slip away into our car to find some quiet moments for daily prayer?
When we know someone confined to a hospital bed or in a nursing home, let us make sure they have a crucifix on their wall and perhaps a statue or image of Our Lady or the Holy Family to gaze upon and find comfort and purpose in their suffering. The same goes for the imprisoned – having an image of Christ and His Mother to gaze upon can dissipate feelings of loneliness and shame.
Blessed Pier Giorgio Frassati and Pope St. John Paul II loved to bring other youth on outdoor adventures and infuse the time with prayer. Imagine a high-spirited hike up a mountain culminating with Blessed Pier Giorgio Frassati leading a hymn to Mary at the peak or gathering around a bonfire to pray a group rosary after kayaking all day with JPII. When it comes to providing inspiration for prayer, nature rarely dissapoints!
Wherever we find ourselves, our prayer will sanctify the space, especially group prayer – "For where two or three are gathered in my name, there am I in the midst of them" (Matthew 18:20). This is why the people often pray outside abortion clinics or other places where evil lurks and vice is celebrated instead of in the church down the road – it packs an extra punch!
We may not always be able to find a quiet, peaceful, beautiful spot to pray. These are the times we prove our love and committment to Christ by choosing to pray in the midst of the chaos. 
Prayer is the place of refuge for every worry, a foundation for cheerfulness, a source of constant happiness, a protection against sadness."
St. John Chrysostom